Safety and Threat Publications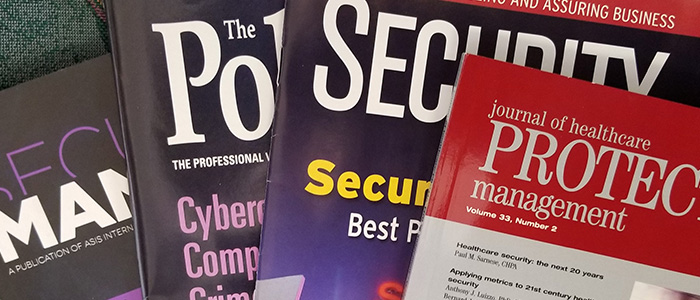 William H. Adcox, Gregory Botz, M.D. FCCM, and Charles Denham, M.D. Med Tac Progress Summary, 07/26/2018
Bystander care during the first few minutes before professional first responders arrive at the scene of an emergency and the latest best practices for care are the most common high impact health hazards that can have an enormous impact on survival. Med Tac Programs developed with UT Police at Houston combine medical and tactical best practices for bystanders and professional first responders in an integrated training program for the public, professional caregivers, and first responders. The Med Tac team won the 2018 Pete Conrad Global Patient Safety Award after presenting the program at an innovation summit at NASA. To view an introductory video and for more information, click here.
---
Raymond J. Gerwitz, UT Police at Houston, 03/13/2018
The challenges faced by today's healthcare security executives emerge at a much faster cadence than in years past. This reality has over time has migrated the healthcare security executive's role from a traditional crime-focused leader of "gates, guards, and guns" to a business leader committed to Prevention, Preparedness and Protection. Success in this transitioned role is defined by outcomes resulting in a reduction of harm to patients and visitors, the organization, and the technology systems that support them.
---
Stefan Happ, CFE, CPM, MAFF, Inspector, Threat and Criminal Investigation, University of Texas Police at Houston, 12/15/2017
Insider threats are people whose access to an organization enables conduct that is detrimental to the organization's goals and mission. Insider threats are usually categorized in a narrow, information security-focused way, but the problem is much greater. Fraud, waste, abuse, larceny, intellectual property theft, and even threats of harm or violence fall into the true definition of an insider threat and are often closely intertwined.
---
Threat Safety Community of Practice at TMC, 03/08/2017
This model provides and evidence based classification intended for use by healthcare leaders to support prevention of cyber-harm, preparedness in case of an incident, protection during an incident, and performance improvement after a harmful or potentially harmful event. The goal is to reduce the impact of cybercrime and cyber-harm on the people who are served and the people who serve at healthcare institutions.
---
Everette B. Penn, Ph.D., University of Houston-Clear Lake, and Vicki L. King, UT Police at Houston, 01/02/2017
The chant "I hate the police" emerges as a common anthem among today's minority and urban youth. Bridging this widening divide requires police to reconsider the negative impact of zero tolerance, stop-and-frisk, and saturation patrol tactics which cast a wide net, often catching "dolphins with the tuna." Education and awareness programs, like the Teen and Police Service Academy (TAPS), offer opportunities for enhanced understanding and awareness for both teens and police. As legislators consider mandating this type of training for Texas children, police must evolve from a warrior identity toward that of a protector.
---